About Us
Here at Fiesta Red Florist we are dedicated to being 'the only florist you need to know!' We simply love what we do, we love working in the shop amongst some of the most beautiful blooms nature creates. From celebration bouquets to house plants, garden planters and weddings we offer it all. We are a strong and confident team of two, a duo if you like of creative individuals that work well together within all aspects of floristry.
Where we are situated places us in the heart of the community, known near and far for our yearly scarecrow festival held in the summer and for often helping out with local gardening groups and events in the area.
Rest assured whatever your floristry needs, we will always be on hand to offer our advice and products best suited for the occasion!
Your Florists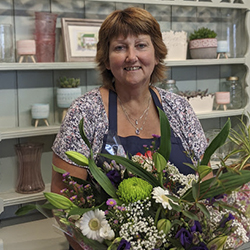 Sally
Owner and Florist, with a keen interest in gardening, Sally is our go to for gardening questionings! Sally was new to the world of floristry when she bought the business in 2016, having learnt skills in the floristry trade since, Sally is always on hand to help with all your floristry needs. Sally has always loved being creative and coming up with new ideas as well as taking on new challenges to keep her busy. Sally is the also is the lady responsible for setting up the ever so successful annual St Marychurch Scarecrow Festival in 2018!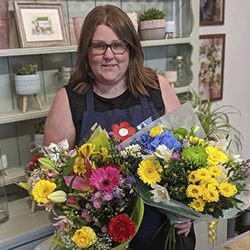 Abbi
Abbi is a fully qualified city and guilds florist. She uses her imagination and skills to create some of the most beautiful flower displays, nothing is ever to much effort! Abbi worked her way up from Saturday girl & apprentice (with the previous owner) to being our head florist for all our wedding, event and sympathy work. Abbi has a keen eye for detail and enjoys the everyday shop life. From the ordering to the sweeping, she is always hands on and raring to go!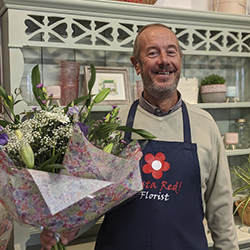 Martyn
One of our delivery drivers, delivering our flowers from the shop to your door!
Customer Satisfaction
As an independent small business we work hard to provide you, our customers whether its your first time using us or your a loyal regular, a service we are proud to put our name too. Therefore we ask if you would mind sparing us a few moments to leave us a review of our service – you can find us on google or via Facebook as 'Fiesta Red Florist'.
We strive to ensure that every product we sell is of both the freshest and very best quality we can buy. However nearly all our floral products are fresh produce, therefore perishable. They can be affected by factors such as change in temperature, storage condition's, care & conditioning or seasonality. If you are not completely satisfied with any products, even if you received them as a gift – please contact us within 48 hours to inform us. In most instances we will not be able to offer any alternative without seeing the item, whether this is through photos of in person in order to address what to do next. Sometimes it is not always our choosing or your care – it is a fresh product of nature we work with and therefore sometimes without intention problems with them arise. Sometimes it can be sold to us without intentions of it being unsatisfactory of which we endeavour to replace should this occur.